Now we are 'strictly' a Bond 23 blog. But on occasions we break the rules. With the Bond 23 preproduction quiet at the present, eyes are focused on 007′s literary comeback in the form of a new novel by American thriller-writer Jeffery Deaver. Making a bit of a scene at London's St Pancras station today, our friends over at MI6 have some pictures, an event report and an interview that might appeal to any Bond fan.
Sitting astride the classic motorcycle is the stunning Chesca Miles, model, singer and the UK's first female stunt rider, and certainly a befitting Bond Girl, whilst from the Bentley emerges the man that everyone has been waiting to see: Jeffery Deaver.
Then, right on cue, the Royal Marine Commandos abseil swiftly down their ropes to deliver the hardback copies of the book itself. It's a very Bondian moment.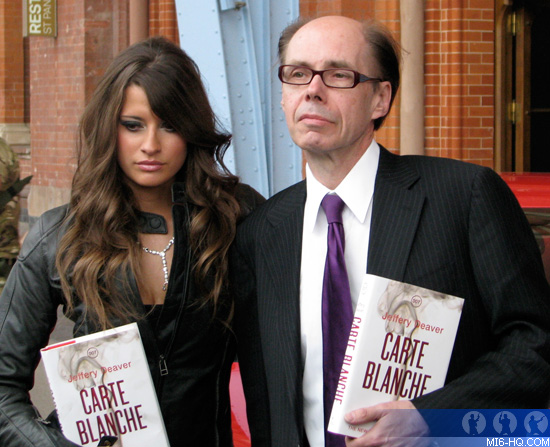 But wait there's more…
Deaver spoke to the Bond website and discussed what fans can expect, on the eve of the launch party no less…
I think I can honestly say, were Ian Fleming still around, he would look at "Carte Blanche" and the Bond I've created and recognise him and would feel that this was a character he would feel right at home with.
Whilst Deaver cannot reveal anything about the plot of the new novel (by all accounts his publisher was sitting with him) he can reveal a few tidbits about the James Bond character (and YES, there are some differences from Ian Fleming's Bond) and how Jeffery approached writing the new Bond novel. It's worth the read.
About James Bond 24 (2015)
James Bond 24 will be released in October 2015. It is produced by EON Productions, with Sam Mendes returning from Skyfall to direct. Daniel Craig is contracted for two further 007 films — Bond 24 and 25 — and will star as the British agent of MI6. Also returning from Skyfall are Ralph Fiennes as M and Naomie Harris as Eve Moneypenny. Although it is unconfirmed, many expect Rory Kinnear to reprise his role as M's chief of staff. Roger Deakins, cinematographer, and Neal Purvis and Robert Wade, screenwriters, will not return. The screenplay is being penned by John Logan.
About Skyfall – James Bond 23 (2012)
The new Bond movie will star Daniel Craig, Javier Bardem, Ralph Fiennes, Naomie Harris, Berenice Marlohe, Albert Finney and Judi Dench, produced by Michael G. Wilson and Barbara Broccoli. The 007 screenplay will be written by regular James Bond scribes Neal Purvis and Robert Wade, working with John Logan (Gladiator & The Last Samurai). Director of American Beauty and Road To Perdition, Sam Mendes will be directing the new James Bond movie. MGM and Sony Pictures Entertainment in a joint statement on 2nd June 2011 announced that "Bond 23″ will go on release in the UK on Friday, 26th October, 2012 and in the USA on 9th November 2012. The first major announcement from EON Productions and Sony Pictures came on 3rd November 2011 in London when the principle cast was announced, along with a rough plot line. In Skyfall, Bond's loyalty to M is tested as her past comes back to haunt her. As MI6 comes under attack, 007 must track down and destroy the threat, no matter how personal the cost.