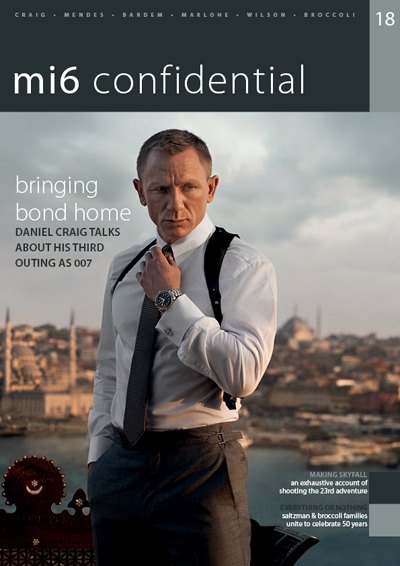 MI6 Confidential, the full-colour magazine celebrating the world of James Bond 007, returns with its eighteenth issue.
We undeniably have a classic in the making on our hands in the form of "Skyfall". To celebrate the release of the 23rd adventure, MI6 Confidential takes you behind the scenes of the shoot with an exhaustive account of the production.
Also in this issue, Daniel Craig gives MI6 a candid interview about his role both on screen and off and Sam Mendes comments on the return of some of the classic Bond elements. Rounding out the coverage are interviews with Javier Bardem, the producers, and the new Bond girl Bérénice Marlohe.
Daniel Craig Interview – the 007 star talks about "Skyfall" and the future of Bond
Bringing Bond Home – An exhaustive account of the making of the 23rd Bond film
Classic Ingredients – Director Sam Mendes shares some classic "Skyfall" Bond moments
You Naughty Boy – Bérénice Marlohe reflects on her relationship with 007
Are You Sitting Comfortably? – Javier Bardem dissects his creepy character
Standing on the Shoulders of Giants – Michael G. Wilson and Barbara Broccoli on the 007 legacy
Everything or Nothing – The Saltzman & Broccoli families unite to celebrate 50 years of Bond
The Bond Connection – Celebrating Harry Saltzman's lesser known pre-Bond productions
Issue #18 is now shipping around the world. To order online, visit www.mi6confidential.com.
About James Bond 24 (2015)
James Bond 24 will be released in October 2015. It is produced by EON Productions, with Sam Mendes returning from Skyfall to direct. Daniel Craig is contracted for two further 007 films — Bond 24 and 25 — and will star as the British agent of MI6. Also returning from Skyfall are Ralph Fiennes as M and Naomie Harris as Eve Moneypenny. Although it is unconfirmed, many expect Rory Kinnear to reprise his role as M's chief of staff. Roger Deakins, cinematographer, and Neal Purvis and Robert Wade, screenwriters, will not return. The screenplay is being penned by John Logan.
About Skyfall – James Bond 23 (2012)
The new Bond movie will star Daniel Craig, Javier Bardem, Ralph Fiennes, Naomie Harris, Berenice Marlohe, Albert Finney and Judi Dench, produced by Michael G. Wilson and Barbara Broccoli. The 007 screenplay will be written by regular James Bond scribes Neal Purvis and Robert Wade, working with John Logan (Gladiator & The Last Samurai). Director of American Beauty and Road To Perdition, Sam Mendes will be directing the new James Bond movie. MGM and Sony Pictures Entertainment in a joint statement on 2nd June 2011 announced that "Bond 23″ will go on release in the UK on Friday, 26th October, 2012 and in the USA on 9th November 2012. The first major announcement from EON Productions and Sony Pictures came on 3rd November 2011 in London when the principle cast was announced, along with a rough plot line. In Skyfall, Bond's loyalty to M is tested as her past comes back to haunt her. As MI6 comes under attack, 007 must track down and destroy the threat, no matter how personal the cost.